This delicious cauliflower bomb has been around for a while now, but for the first time we have prepared it in Dutch Oven. Since we currently cook or bake a lot in the Dutch, we also wanted to try this recipe in it. 😊
With the cauliflower bomb you can count on healthy vegetables, meat and a delicious shell of bacon 🥓🥓🥓  that will you make happy. The whole is rounded off with a sauce of cream and ... 😋 Roasted onions.
Is not that a brilliant combination 😊
Tip: If you do without the potatoes, you'll get a tasty low carb dish in no time.

Give it a try 👍
What you need
1 cauliflower
500 g minced meat
500 g potatoes (hard-boiling)
200 ml of cream
200 g Schmand
75 ml vegetable broth
2 Pack Bacon
1 egg
Roasted onions, breadcrumbs
Mustard, salt, pepper, herbs
The number of potatoes depends on the size of your Dutch Ovens. In our case, the crowd is perfect in one
FT6 from Petromax
fit.
Preparation
For the cauliflower bomb, it is first cleaned, the stalk is cut crosswise, and then the cauliflower is boiled in salted water for 10 minutes. The minced meat is well mixed with sour cream, egg, herbs and bread crumbs and seasoned with pepper & salt.
The cauliflower is now placed in the middle of the Dutch oven and covered with the minced meat mixture. Then everything is covered with bacon. For this, the bacon is simply distributed on the surface and pressed firmly.
Now the potatoes are peeled, cut into pieces and added to the cauliflower. For the sauce, place the cream in a bowl and mix with the mustard and vegetable broth. Finally, the sauce is seasoned with salt & pepper and spread over the potatoes.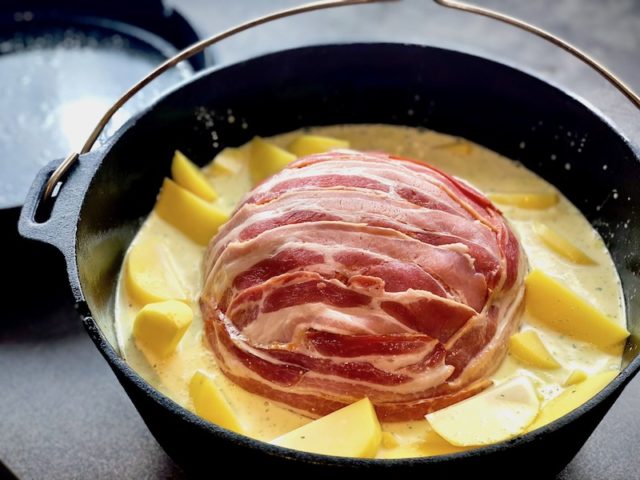 You have the choice. Either give the cauliflower bomb in your preheated oven (at 200 ° C) or you use your Gas grill (indirect heat) or simply glowing coals (Ca. 26 pieces, 8 below / 18 above). Let it bake for about 60 Minutes.
We wish you,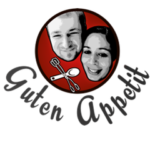 The somarked links are so-called Amazon affiliate links. If you click on such an affiliate link and buy through this link, we will get a commission from Amazon. For you, the price does not change.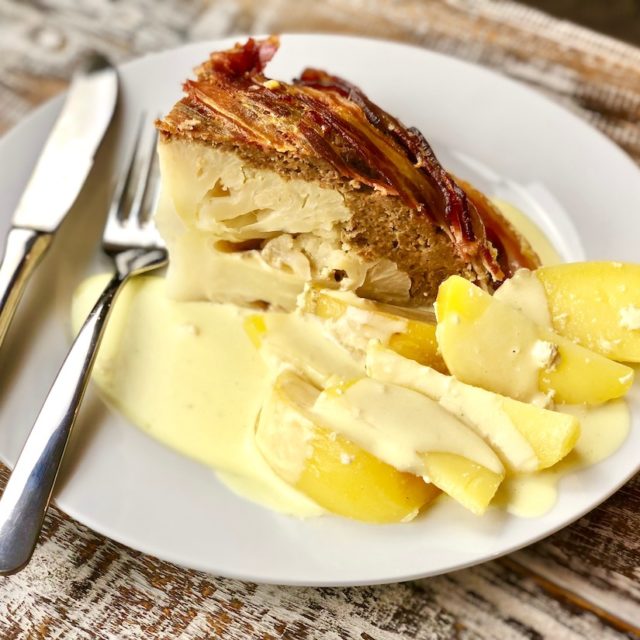 Cauliflower bomb
Court

Main course, main course

Countries & regions

Germany
Cauliflower wrapped in minced meat and bacon.
total time
1
Hour
20
Minutes
Ingredients
General
500

g

potatoes

festkochend

2

Pack

Bacon
Minced meat mixture
500

g

minced meat

200

g

sour cream

2

EL

bread crumbs

2

TL

Herbs

1/4

TL

salt

1/4

TL

pepper

1

Ei
sauce
200

ml

Cream

75

ml

vegetable stock

1

EL

Mustard

1/2

TL

salt

1/2

TL

pepper
Instructions
Preparation
Clean the cauliflower, cut the stalk crossways and boil the cauliflower 10 minutes in salted water.

In the meantime: Peel potatoes and cut into pieces.
minced meat mixture
Put minced meat in a bowl. Add sour cream, eggs, bread crumbs, herbs, pepper and salt and mix well.
sauce
Put the cream in a bowl. Add mustard, vegetable stock, salt & pepper and stir well.
Preparation
Place the pre-cooked cauliflower in the middle of the Dutch oven and cover with the minced meat mixture.

Put the bacon slices around the minced cauliflower and cover completely (squeeze).

Distribute potatoes around the minced cauliflower and pour over the sauce.

Finally close the Dutch Oven and bake it in the preheated Oven, at 200 ° C, for Ca. 60 Minutes.