Since I discovered Nutella for myself three years ago (I'm not that much a chocolate fan 🙃), Nutella is always ready with us. Especially at the weekend, I love to enjoy Nutella on pancakes (Hungarian pancakes) or in puff pastry 😋
And as soon as Christmas comes closer, I get a taste for gingerbread. I mean the big gingerbreads that are in the Heart, Star and Pretzel shape, That's when I came up with the idea to combine the two treats into a dessert.
The gingerbread muffins were born - on top of that it is also great as a remnant for gingerbread 😁
Gingerbread-muffins
The muffins are very chocolaty and fluffy, with a breeze of Christmas 🎅, The Nutella cream, on the other hand, is just insane and so easy to make, with just three ingredients 😊
You can decorate it at your own, there are no limits 🤗🍓🍭 I have her with me powdered sugar and Smarties , but they taste delicious even without frills.

What you need
Muffins
230 g of gingerbread
110 g butter
2 eggs
1tbsp baking powder
1 / 4 TL Soda
2 EL sugar
1 TL gingerbread spice
Muffinform eg Petromax MF6
Nutella cream
250 ml of cream
1 Pack cream stabilizer
3 EL Nutella
Preparation
First, the gingerbread is crushed, preferably with a kitchen blender. Then all other ingredients are added together in a bowl and stirred into a smooth dough.
The muffin form, in our case one Petromax MF6, is now generously greased with release spray, before the dough is added in portions with an ice cream scoop in the molds.
Let it bake for about 20 - 25 minutes , in the preheated Oven (at 180 ° C).
Since the dough is partly made of finished gingerbread, they are done quite quickly. For testing you can use a wooden stick.

After baking, put the muffins for 2 hours in the refrigerator.
Preparation of the Nutella cream
For the cream, first whip up the cream, then added cream stabilizer and beat everything stiff. Then stir in Nutella and chill everything.
Now you can decorate according to your mood. I cut it and made it like a mini naked cake. My husband had the idea with the Smarties. He wanted to get involved creatively 😄
The Nutellacreme can of course also be used as a topping on the muffins (piping bag)
😊
We wish you,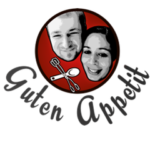 The somarked links are so-called Amazon affiliate links. If you click on such an affiliate link and buy through this link, we will get a commission from Amazon. For you, the price does not change.
Gingerbread-muffins
Juicy gingerbread muffins with a Nutella cream.
Ingredients
Muffins
230

g

Gingerbread

110

g

Butter

2

Eggs

1

TL

baking powder

1/4

TL

bicarbonate of soda

2

EL

Sugar

1

TL

ginger bread spice
Nutella cream
250

ml

Cream

3

EL

Nutella

1

Sahnesteif
Instructions
Muffins
Mince gingerbread, preferably using a kitchen blender.

Put all the ingredients in a bowl and mix to a smooth dough.

Grease muffin mold with release spray.

Pour batter in portions into the molds using an ice cream scoop.

Put it into the preheated Oven at 180 ° C and let it bake for about 20 - 25 minutes.
Nutella cream
Whip up the cream briefly and add the cream stabilizer.

Beat up, stir Nutella in and let it chill.
Decoration
Decorate according to your mood! I cut it and made it like a mini naked cake.